Fly Fishing Books Freshwater
From our own Fly Fishing Colorado Library
Learning to fly fish and catch trout or other fish can be a frustrating experience! Yet I have seen seven year old kids with only 3  hours of instruction be able to roll cast and catch fish. Using the same fly fishing techniques taught in "Successful Fly Fishing for Trout".
My name is Marshall Estes. I have been fly fishing since 1969. When starting out fly fishing, I had to teach myself by reading books and practicing a lot. It was three years before I started catching trout consistently. As a fly fishing enthusiast for more than 44 years, my goal is to shorten your fly fishing learning curve to 60 days or less. So I'd like to share some of my trout fishing knowledge with you in my book "Successful Fly Fishing for Trout"
from Barnes and Noble ( A name you can trust in internet book selling)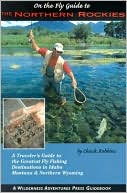 The Northern Rockies: A Traveler's Guide to the Greatest Flyfishing
Destinations in Idaho, Montana & Northern Wyoming (On the Fly Guide To…)
(Paperback)
by Chuck Robbins Usually ships within 24 hours
The On The Fly Guide to the Northern Rockies distills a lifetime of
exploration and experience into a guide that will help you successfully plan a
trip to the prime waters of Idaho, Montana and Wyoming. Chuck Robbins has picked
his favorite rivers and lakes; shares his wealth of insider information on how
to fish these premier waters and the best time to fish them; his favorite fly
for each water; along with his personal recommendations for great food and
interesting places to stay; and many other tips.

Read reviews, check current prices,
or Order this Colorado Fishing Book

Fly Fishing the Rocky Mountain Backcountry (Paperback)
by Rich Ostoff 256 Pages Usually ships within 24 hours

Book Description:
*8-page color section
* Map
* 6 x 9
* The most complete guide available
* Fishing, camping, and hiking tips
* Extensive list of waters and how to reach them
Great fishing in breathtaking surroundings can be had in the Rocky
Mountains, but you'll need this book, because unlike many remote
destinations with fly-in access, these waters can only be reached on
horseback or on foot. Part One covers gear and techniques for traveling,
camping, and fly fishing, including practical advice on how to plan a trip,
which hiking, camping, and fishing tackle and flies to bring (and which to
leave at home). Part Two is a detailed guide to select destinations in
Montana, Wyoming, Colorado, Utah, Idaho and Oregon, all based on the
firsthand experience of the author.
Rich Osthoff is a professional fly tier and angling writer who has fished
and hiked in the backcountry for 20-some years and written articles for the
major fly-fishing magazines. This is his first book. He lives in Mauston,
Wisconsin.
Reviews:
— Rich Osthoff knows what he is talking about. I
have read many books that attempt to cover backcountry fly fishing, and none
have done so as well as Osthoff's. As an experienced backcountry fly
fisherman, I found Osthoff is right on the money with all he had to say.
There was still a lot of material to challenge even the experienced though.
If you have any interest in catching gorgeous fish in an equally gorgeous
setting, this is your book. Absolutely right on the money.

Read reviews, check current prices,
or Order this Colorado Fishing Book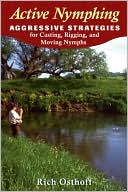 Active Nymphing (Paperback)
by Rich Ostoff Usually ships within 24 hours

Book Description:
No other form of fly fishing has broader application on so many types of
water for both active and inactive trout. So argues Osthoff, who challenges
the long-held notion that nymphing involves little more than dead drifting
with the current. Osthoff advocates an active strategy of moving the nymph,
applying effective casting and creative presentation techniques that will
attract the most elusive trout. With comprehensive advice on rigging and
prospecting, practice tips for a wide variety of casts, and strategies for
precise control to bring your nymph to life; this is your guide to becoming
a truly versatile angler.

Read reviews, check current prices,
or Order this Colorado Fishing Book
No Hatch to Match: Aggressive Strategies for Fly-Fishing Between
Hatches Paperback)
by Rich Ostoff Usually ships within 24 hours

Book Description:
"What to do between hatches is an increasingly important aspect of fly
fishing, and Rich Osthoff is eminently qualified to address the subject in
detail. This is a very well-conceived book and of great value to the
contemporary fly fisher." -Dick Talleur, author of Mastering the Art of Fly
Tying and Guide to Fly Tying The bulk of fly-fishing literature is centered
on matching the hatch, when in reality, on most waters, most of the time,
there is no hatch to match.
This eye-opening book provides a wide range of strategies for fishing
resourcefully between the hatches. These include subtle techniques of
presentation, such as micro-nymphing for inactive trout; aggressive
strategies such as long-line nymphing with precision for active trout; using
prospecting dry flies and streamers effectively; and a wealth of practical
advice on reading the water. It includes chapters on seasonal movements of
trout, temperature-induced feeding binges, beating the heat, dealing with
dirty water, and targeting big, carnivorous trout. It will expand your
repertoire and make you a more successful fly fisher. Rich Osthoff
(Fly-Fishing the Rocky Mountain Backcountry, 0-81170-2766-1), is a
professional fly-tier and freelance angling author who writes for major
fly-fishing publications.

Read reviews, check current prices,
or Order this Colorado Fishing Book
Fly Fishing Books by the most published fly fishing
author Lefty Kreh. He has authored over 20 books on fly fishing and fly
casting. If I was a beginner starting out, Lefty's books and DVDs would be a
great place to start learning about fly fishing.
Lefty Kreh's Ultimate Guide to Fly Fishing (Hardcover)
by Lefty Kreh Usually ships within 24 hours
Book Description:
Lefty Kreh is generally acknowledged around the world as being the
wisest and most widely read fly fishing instructor.
Over the past fifty years he has written nearly two dozen books,
accounting for hundreds of thousands of copies in print, in order to address
the many aspects of this exciting sport. Now for the first time, all of
Lefty's many tips and techniques are available in a single, powerful volume:
Lefty Kreh's Ultimate Guide to Fly Fishing.
Culled from a lifetime of fishing and teaching in almost every
conceivable place a fish can be caught, fly fishers will learn the master's
thousands of subtle tricks and invaluable insights, such as: selection of
rod, line, and leader for fresh and salt water; basic casting, casting in
salt water, solving casting problems, and advanced casting; approaching fish
and presenting flies; techniques for trout, salmon, bass, panfish, stripers,
bluefish, sharks, tarpon, bonefish, and more; fly design and selection;
fishing in rivers and lakes, inshore and offshore, in mangrove backwaters
and on the open sea.
No single work contains more of Lefty's experience and knowledge. It is a
boon to beginners, a reference to experts, and the ultimate work for Lefty
enthusiasts and collectors.
Reviews:
Every once in a while there is an expert who,
through years of trial and error and effort-gains lots of knowledge about
his area of interest- Such a man is Lefty Kreh- and then- sometimes he puts
it all into one book-and makes it available to us neophytes-and WE WIN!
Just such a book is this- whatever you need to know-flies, knots, tackle,
methods, fish, water (Fresh-salt-warm-inland)-
Hey , Lefty knows it- he puts it down! You get the book- you will know it
too!

Read reviews, check current prices,
or Order this Complete Fly Fishing Book
Lefty's Little Fly-Fishing Tips: 200 Innovative
Ideas to Help You Catch Fish (Paperback)
by Lefty Kreh Usually ships in 24 hours

Book Description:
Dozens of practical tips, invaluable advice, and hard-won observations on
how to fool even the wiliest fish, in both fresh and salt water.
Whether
your fly fishing takes you to freshwater trout streams and bass lakes; to
the Northeast salt for striped bass and bluefish; or to the tropics for
bone-fish, tarpon, jacks, and redfish, you will find much of value in
Lefty's Little Fly-Fishing Tips, a distillation of a fly-fishing master's
more than five decades plying the waters of the world with fly rod in hand.
Advanced and beginning fly anglers alike will benefit from the wisdom
born of Lefty's long experience. Learn how to: Use a partner to find fish
and cast quickly and accurately; improve your chances of catching larger
fish of any species; simultaneously retrieve a fly and strip line from the
reel; rescue a fly that's stuck on a log; cast easily in tight quarters;
organize and maintain your tackle for optimum convenience and performance
and much more. This beautiful and practical book is a must for any serious
fly fisher, beginner or expert. (5 x 7 1/2, 160 pages, color photos, b&w
photos, diagrams)
Lefty Kreh is the best known and most
respected fly-fishing author and fly-casting instructor in the world. He is
the author of more than twenty books and countless magazine articles. He
lives in Maryland.

Read reviews, check current prices,
or Order this Fly Fishing Book
Presenting The Fly: A Practical Guide to the Most
Important Element of Fly Fishing (Paperback)
by Lefty Kreh; Rod Walinchus (Illustrator)
Book Description:
A fly-fishing master teaches the intricate art of properly presenting a
fly. Nothing is more important in fly fishing than successfully presenting
the fly.
No matter what rod, reel, line, and fly are used, the fish will not take, if
the fly is presented with a splash or out of target. In this comprehensive
book, Lefty Kreh explains that the art of presentation is much more than
dropping the fly in the best position–it also involves the clothes you
wear, the methods you use to rig your tackle, how and where you approach the
fish, the types of fly lines and reels you use, the direction of the light,
the type of cover, and the retrieval method used, among other factors.
Lefty delves into each of these subjects with his usual knowledgeable vigor.
Lefty also describes the different methods of presentation for the various
species of fish– from trout and other freshwater species to fish that
inhabit backcountry and inshore waters to exciting saltwater species like
permit and even sharks. With over one hundred photographs and line drawings,
Presenting the Fly belongs on every angler's bookshelf.
Reviewed:
— As I looked through a friends copy of Lefty
Kreh's PRESENTING THE FLY I said "gee, I don't need this book, I already
know a lot of this stuff."
You see I've been fly fishing for almost 30 years and 30 years of
frustration, trial and error and lost fish taught me much of what I found in
this book.
I realized that all I need is another 30 years of frustration, trial and
error and lost fish and I'll probably figure out the rest of it as well.
Then I came to my senses and bought the book, you should too. If I only had
one book on fly fishing this would be it. I wish I had it 30 years ago. I
imagine a lot of fish are glad I didn't.

Read reviews, check current prices,
or Order this Excellent Fly Fishing Book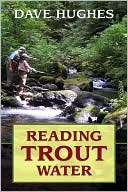 Reading Trout Water (Hardback)
by Dave Hughes
Usually ships in 24 hours "Trout
are like folks: they have a list of basic needs, they are most
comfortable where those needs are met, and that's where you'll find
them"
Second edition, completely updated in full color
• Covers every water type—riffles, runs, pools, flats, pocket water, bank
water
• Learn how to find trout by studying currents, temperatures, oxygen levels,
and food sources
• 140 color photos pinpoint trout locations in specific water types

Read reviews, check current prices,
or Order this Fine Fly Fishing Book
Trout Unlimited's Guide to America's 100 Best Trout
Streams, Updated and Revised (Paperback)
by John Ross
Usually ships in 24 hours
Editorial Reviews:
Praise for Sports Afield Guide to North America's Greatest Fishing
Lodges, also by John Ross:
"Ross, a contributing editor to Sports Afield magazine, and Anders, a
writer and editor for Country Inns magazine, have created an excellent
companion guide for those who love to fish.
Whether rustic settings with cooking facilities or full-service lodgings,
they are in here. Beginning with the East and continuing through eight other
areas of North America, the authors offer vital statistics, including fish
species, season, rates, other possible activities, and a brief description
of both the fishing and the lodging.
They also offer useful travel tips, for example, on what and how to pack
and information concerning shipping fish home. There is a brief list of
references for each part of the country. A valuable tool for fishing
travelers; recommended for all libraries."
–Library Journal

Read reviews, check current prices,
or Order this All American Fly Fishing Book